«
They just pile up
-
Translation (As requested by Her Highness, FireAngel)
»
26 September 2005
26th September
Not mummy day, daddy day, loctor day, nurses day, secretary day, women day, teachers day, children day, world peace day, hospice day, apa-apa disease day…. But it's a speschial speschial day nonetheless…
*drum roll*

Today is FA DAY!!!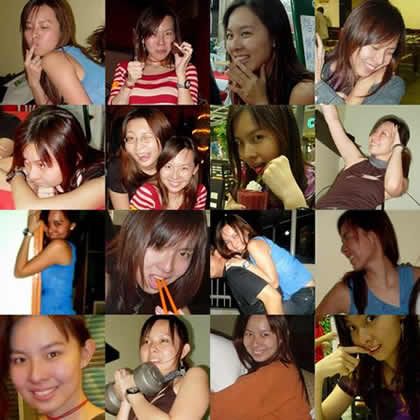 FireAngel or 烈火天使 (lie4 huo3 tian1 shi3)…She's kiut, she's pwetty, she's smat, she nise, she the bestest to da maximumest!!!

Here's a link to fireangel fan club, better known as FAFC.
Oh, the official FA pimp is KY.
Some of the things people say 'bout this girl…
"The blend of classic and contemporary beauty, I tell you!!!"
– The Loctor
"We worship the ground you walk on."
– The Snark
"FA has such gorgeous smile!!!"
– The Meowmeow
Just keep your eyes on PPS and you'll understand why today is FA day.
Other people blogging 'bout FA
The Snark has a nude picture of her.
Belacans thinks she is kiut!
Shaolin Tiger molested her.
Minishorts claims that FA = her girl.
KY likes FA's fashion.
The Loctor wei da jia jie shao lie huo tian shi.
Kimberly tells you why we dig FA.
Suanie loves FA.
dSaint even created an FA theme for SE phones!
Mossie says she is "Fire that burns, Angel that shines".
Eyeris wants to sign up for the FA fan club. so do we, eyeris.. so do we..
Mr. J!mmy tells you who FA is.
Mike has a poem for her.
Resurrected has an ode to FA.
Frostier proclaimed that she is Queen.
Dinzlink don't quite know what's the matter.
Nebo is also trying to figure out who FA is.
MENJ doesn't know as well. ah… these ignorant people..
iblogme is blogging FA instead.
Ghost says that a new star is born.
Boringest went searching for FA's blog.
wahlau, FA is our hero.
*I'll try to keep this part updated as I go along.
12 Responses to ' The WTFOMGBBQ SPESCHIAL Day '



OMFG she is teh ON




OMGBBQWTF I MOLESTED FIREANGEL!

OMG I MOLESTED FA!




FA's da BOMB!




So far I get,

1. She's fairly pretty
2. She's slim
3. She's an alcoholic
4. She swears prolifically and
5. She dances around and makes provocative poses.

Sorry… how does that make it FA day?

Really confused.




烈焰天使

今天, 本網站要為您特別隆重介紹一位博壇天后 - "烈焰天使". 與天后的邂逅,…




angel

The warmth of the morning sun The charm of the silvery moon The laugh of a thousand hyenas The beauty for an eternal swoon. The angel of heavens The goddess of desire With a face that blokes would slobber…




Hey, is she a blogger? Coz I can't find a link anywhere.




our hero - Fireangel

Today is a special day (yeah, yesterday too, although). today i am going to introduce you our very own hero in Malaysian blogosphere - Fireangel.
(picture from our fan club, ooooohhh i am so excited to be part of it)
so much about myself. let's talk a…




Plus a Button for the FAFC.
D'BlogII

For anyone who wants to steal it.




FireAngel?

Looks like I'm too new to the blogging scene to know who 'Fireangel' is. Read all the related blogs but can't find a link to her own blog!




Actually I agree with LiewCF and I think he has the right to express his own opinion on the incomprehensible fuss about FA - note he didn't use any bad language or vulgarities either. Drinking to excess till you puke is not something to be proud of IMO! :P




[…] 17. The WTFOMGBBQ SPESCHIAL Day […]
Leave a reply